Our company is backed by experience in providing uniforms solutions to clients in the local as well as international arena. We work with a wide variety of fabrics and styles and provide individualized design solutions to clients. Our highly qualified team has the expertise to assist with creating and updating your uniforms as required.As an extra service, we also provide embroidery of the highest quality. Our skilled staff can create custom logos or use existing logos to help personalize your uniforms.
UNIFORM TIPS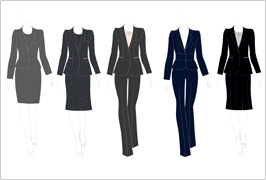 COLOR
creates a positive image for your organization.
CLOTH QUALITY
Should be easy and comfortable to wear.
Doesn't wrinkle easily.
Color and form remain intact after multiple washes.
Should have an average usability of at least one year.
DESIGN
To suit the personality, the look and feel of your business.
NAME BADGE
Lends an approachability factor in situations where companies want to build trust with their consumers.
LOGO
Helps promote your company identity.[hr] DISTRIBUTION
Our quality-control checkpoints help ensure that your order reaches you correctly and on time.